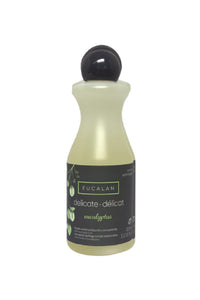 Eucalan's Lavender Delicate Wash is scented using the essential oil of lavender. Known for its natural moth and flea inhibiting with antiseptic properties, this is a versatile wash for all fibres. The lanolin enriched formula naturally conditions fibres to keep static away. Lavender's sweet soothing scent is ideal for baby items like blankets, stuffed animals, clothing and wool diaper covers. Eucalan's most versatile scent, use it on all your delicates like sweaters, lingerie, hosiery, comforters, linens, bedding, down jackets and bathing suits.

Tips: For woolens in particular, no rinse is an important concept. Wool fibre has barbs on it that have a tendency to link together when agitated or washed in the wrong temperature of water. This leads to "felting" and shrinking. Using a no rinse product ensures that the water temperature is not being changed between the wash and rinse water. It also means that you are handling the fibres less and decreasing the danger of "felting" it. The lanolin in Eucalan is a natural conditioner for wool, so it helps to increase the loft of the fibre and decrease the itchiness of wool by relaxing the barbs.
The Basics
How To Use Eucalan
Eucalan Delicate Wash is perfectly suited to many items.
Hand Wash:
Fill basin with tepid water (room temperature water, not hot and not cold)
Add Eucalan to basin.
Insert article to be washed and soak for 15 min. (minimum).
Squeeze article gently to incorporate water and soap through fibres.
No need to rinse.
Pull article out of water and gently squeeze out excess water. Do not twist or ring.
Follow drying instructions below.
Machine Wash:
Front Load Machine:
Select Rinse and Spin or Hand Wash/Delicate cycle. Cold or tepid water.
Add Eucalan** to the softener drawer.
Load articles into machine and start cycle.
Follow drying instructions below.
Top Load Machine:
Select gentle cycle and add cold water.
Add 2 or 3 capfuls of Eucalan to machine.
Stop machine. Load washables and squeeze gently to saturate.
Allow to soak 15 - 30 min. (minimum).
Gently squeeze articles again.
By-pass rinse cycle.
Spin water out.
Follow drying instructions below.
*Use 5mL/1 tsp per 4L/1G of water (more for heavily soiled items)
**Use 15-30mL/1-2 Tbsp. per load (adjust amount based on size of load)
Eucalan Delicate Wash is non-toxic, biodegradable, free of optical brighteners, phosphates, synthetic fragrance and dye. Eucalan is pH neutral and is packaged in an easy to recycle, dye free HDPE plastic bottle. Available in 5 scents, Eucalan is scented with only quality essential oils, in addition to natural/unscented. The lanolin acts as a natural conditioner, keeping fibres supple and reducing static. Eucalan meets strict European regulations, it is "quickly" biodegradable.
Eucalan Ingredient List:
Essential Oil (where applicable) (Pure and natural lavender oil)
Ammonium Lauryl Sulphate (Vegetable-based soap)
Ammonium Chloride (Is a salt of ammonia; used as a thickener)
Cocamide MEA (Mild foaming agent and thickener derived from plant source)
Purified Water
Hydroxypropyl Methylcellulose (Thickener derived from plant source)
PEG 75 Lanolin (Naturally derived lanolin)
Methylchloroisothiazolinone (Preservative and antibacterial)
Liquid products are not available for shipping, in store purchases or pickup only.