BRAND FEATURE: SMARTWOOL
Smartwool makes stylish base layers and activewear that will help you enjoy the outdoors, no matter the weather. The brand's signature Merino wool holds warmth, wicks moisture and controls odour.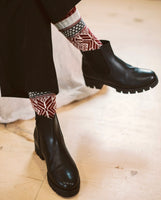 NEW BLOG
Big thanks to photographer Michael Steingard. We are so excited about the holiday-themed photos he took of musician Dayna Manning at Riverwalk Commons. It's a beautiful event space in historic St. Marys, Ontario.
Dayna looks amazing as always, but somehow, Smartwool socks stole the show!
READ MORE