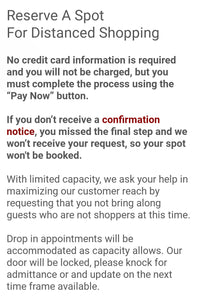 What to expect

During your visit, there will be a maximum of 3 sales people and 7 customers in the shop at one time.
Please assist us in our recovery from lockdown by only booking spots for interested shoppers. We kindly ask that friends not shopping wait outside, but you may slip outside to show items to non-shoppers. Your consideration allows us to reserve our limited capacity for customers and is much appreciated.
 Every person admitted to the shop will be required to use our sanitizer.
Our service team will be masked and we ask customers to wear a mask too. We can provide a disposable mask or customers may wear their own.
All contact surfaces will be sanitized after each customer.
We ask your co-operation in maintaining a hockey stick's distance while in the shop.
We can't wait to Resonate with you ... from a safe distance!